Another problem is that process engineering departments don't have enough resources to produce all of the method content needed in the field. For example, they usually can't provide content for different versions of the same tool. Hence, the method content remains unchanged, and the organization loses the collective knowledge and understanding of its practitioners who can revise the content based on real-world field knowledge.
Note: Some of the content is often priority to an organization; an example is the Insurance Application Architecture (IAA) model, which is proprietary to a company like IBM.
Other techniques have been used to solve the same problem. Consider the following: An administrator or process engineer can republish the static method on a regular basis (for example, monthly, weekly, daily). However, a process needs to be established to incorporate practitioner feedback or contributions into the method. Also, the problem is aggravated by the fact that the method is published along with a tool, such as IBM Rational Software Architect and doesn't get updated until Rational Software Architect gets updated. Practitioners build their own pages with up-to-date information, but these pages are scattered and not integrated with method and process contents.
Create extensible method content with Web 2.0
Ideally, you want to be able to extend software development processes and methods with extensions built collaboratively, and dynamically populated at the time practitioners use the method. Figure 1 shows you what this looks like.
Figure 1: Collaborative and dynamic method overview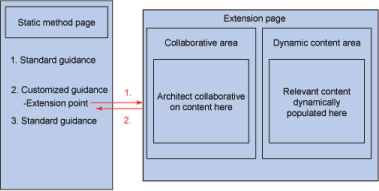 There are several activities associated with this collaborative and dynamic content. Let's take a closer look at these activities.
Extension point identification
The process engineer identifies extension points in a static method. Typically these extension points are in areas of the method that describe new or improved techniques, or both, and in areas for which content needs to be built with the help of community or will quickly become out of date.